Highlight on AGLCA Sponsors ~ Dockmate
Confidently and Safely Control your Boat from Anywhere Aboard!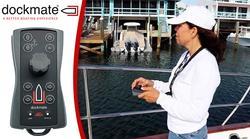 With Dockmate, you'll easily navigate through crowded marinas, into tight slips, or through locks.
Our simple plug 'n' play installation and sea trial lets you customize the handheld remote control settings to your specific needs.
You'll be up and running immediately so you can enjoy the benefits of having the "helm in your hand." You can leave the helm station and have an up-close view of your surroundings from anywhere aboard.
Click here to learn more about this amazing technology & benefits, along with our show specials going on RIGHT NOW!