Highlight on AGLCA Sponsors ~ Quimby's Cruising Guide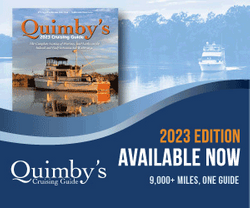 Updated each year, the comprehensive guide covers over 9,400 miles of inland waterways and features more than 1,250 individual entries for marinas, docks, locks and dams, and fuel and service facilities. The guide includes numerous articles and insightful tips from experienced cruisers and is an essential resource for anyone cruising the Great Loop.
Quimby's Cruising Guide has been the trusted source for marinas and locks on the Inland and Gulf Intracoastal Waterways for 61 years. The 2023 edition of the guide is available for purchase now! Get yours today at https://quimbyscruisingguide.com/ Quantities limited!